Paid Content Writing

: What are the Best Online places in the USA for Online Publishers and Content Writers?

In this globalization era where everything has taken an online trend, fresh content is the key to success in any form of business that has an online presence. Perhaps that is why the proliferation of content service providers in the United states has hit the ground running in the recent times.
If you want to hire only the content writers whose native language is US English, then you should try the below listed USA based content writing service provider companies as the most of the writers registered there are native English speaker. And, some of these service providers only allow US based writers, so you get the highest quality content written for your online publication necessities.
For Online Publishers: If you are an online publisher who frequently needs quality content for his/her own website(s) or for the clients, then you should visit these websites.
Go, register at them, and submit a few projects or assignments at each one of these top 10 websites . After reviewing each project, you will surely be able to know which ones are the content websites that are fully apt for your budget and brand.
If still, you are not satisfied with the results, you should also try to hire freelance home based writers by listing your requirements at some of the Best USA Classifieds Websites
For Content Writers: If you are a content writer yourself and want to earn some good online money working as a part timer or full timer writer. The websites listed here offer you best of the paid writing work opportunities.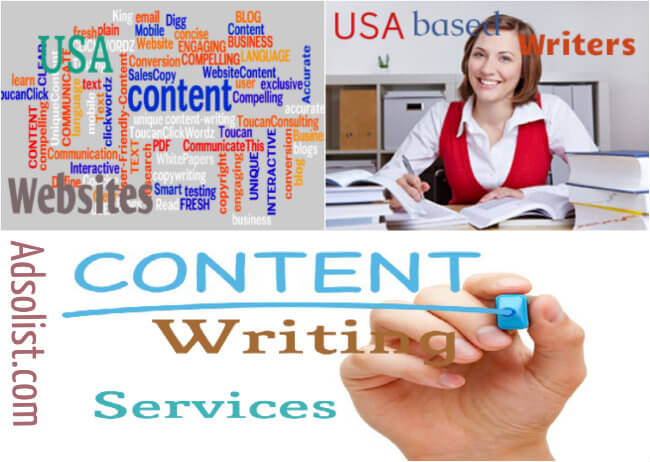 There are several content writing service providers in USA, but here are 10 of the most populars for the country :-
1. Media Shower   [www.mediashower.com]
Media Shower is among the great content marketing organizations in USA that works with professional journalists to provide high-end content to their clients.
Irresistible article titles are created based on the keywords and high quality content is then written following global or Local Search Engine Optimization guidelines. This creates fresh content which is free from errors and ready for posting on the client's website. The result is that the site in question will go viral, to the benefit of the client.
The content created by Media Shower has been covered every where from Businessweek to the New York Times.
Pricing of the content depends on the package chosen by the client, and depending on the Managed, Plus and Pro platforms, as outlined at www.mediashower.com
2. Iwriter.com
Iwriter is a freelancing website that allows freelancers from all parts of the world to deliver quality content to content requesters.
It is one of the fastest growing freelancing sites due to its flexibility and minimal registration requirements. Articles cost as little as $ 1.5 and you can be sure to get cheap high quality content from iWriter for your website.
The freelancers are categorized into Standard, Premium, Elite and Elite Plus categories depending on the ratings received from requesters. The cost of hiring the freelancers, and therefore the quality of article increases as you move up the ladder, from Standard to Elite Plus freelancers.
It also varies depending on the length, with the cheapest articles being 150-word articles and the most expensive ones being 2000 –word articles
3. Odesk.com
Several organizations from all parts of the world rely on Odesk for fresh content on their websites. Odesk has a network of freelancers who have to take some tests to confirm their qualifications and whose identities are known, irrespective of where they come from.
This makes it easy for clients to schedule tasks and to plan ahead, and working with someone you know of is always admirable. Content can be written and paid for on a per hour basis or on a per project basis, depending on the task.
Sometimes, clients may interview the chosen freelancer on Skype to verify the qualifications and suitability to the task.
Pricing depends on the type of project, the minimum amount that the freelancer is willing to take for a certain task and the maximum amount that the client is willing to pay for the same task.
4. My Web Writers  [http://mywebwriters.com]
"My Web Writers" is a content writing service provider that works on the philosophy that content is king. It offers flexible content writing packages whose pricing depends on the time required to complete the task among other factors.
The content is edited and proofread to eliminate any spelling, grammatical or sentence structure errors and to ensure that it is search engine optimized. Video script writing services are also offered.
5. WriterAccess  [ http://www.writeraccess.com]
Websites require great content to thrive, and great content is offered by reliable writers. This is the essence of the existence of this website, as per its content.
WriterAccess is based in Boston, USA and it endeavors to be a content provider of choice to both the freelancer and the content requester. Pricing is customer friendly, and rightly so especially at these tough economic times.
However, the amount to be paid varies on the rating of the writer and the number of words. For instance, a 300-word article written by a 4-star writer goes for about $18.72 on a normal business day.
6. CopyPress  [http://www.copypress.com]
CopyPress has a network of writers, developers and designers who create expert content, essential content, eBooks and press releases to clients who are looking for content for their sites.
CopyPress works with both small scale and large scale organizations and aims at creating large networks of both clients and content writers in order to provide content solutions for websites.
7. Zerys  [http://www.zerys.com]
If you are a keen businessman, you can transform your business from the current status to a market leader status by getting extra-ordinary content from Zerys.
Whether you are a marketer, and agency or a writer, Zerys is the place for you. If you are looking for content, all you need to do is create an appropriate content strategy, build a team of professional writers and pay only when you are satisfied with the content.
All the content tools and labor you need are available at Zerys, at prices that do not break the bank.
8. Articlez  [http://www.articlez.com]
If you are looking for American ghost Writers then look no farther than www.articlez.com. This is the content solution for those looking for great website, blog and eBook content.
The article length varies from 100 to 100 words, and the price varies accordingly. Articlez also offer great press releases that generate a lot of traffic to the client's website and consequently boosts sales.
9. Constant content [www.constant–content.com]
Constant content provides blog writing, copy editing, copywriting, eBook writing, press release writing, SEO content writing, review writing and white paper writing services to its clients.
All these types of content are offered in a wide variety of topics as per the client requirement. Generally, the price ranges from $20 to $250, depending on the quantity and quality requested.
10. SEO article Writing Pros [http://seoarticlewritingpros.com]
SEO article writing pros provide articles, blog posts, press releases, eBooks, eReports, general website content and social media posts for its clients. This is made possible by the large network of professional content writers and copywriters who work closely with this organization.
The content offered is unique and a typical content project is completed in 3-5 days depending on its type and size.