List of 25 Free classifieds Sites for Delhi. Post ads for Delhi NCR Local Cities of India
25 best Local classified sites for Delhi NCR– Delhi NCR is a booming advertising region in India where millions of online ads are published daily on Internet based classifieds, newspapers, magazines and other print and digital media. The place is always buzzing with lots of advertising activities . So, digital marketing is in great demand in the whole NCR region as it's a hub place for several industries, like real estate, manufacturing, print, digital, education, etc. And, digital marketing is the most popular form of advertising today. That's why online classifieds have become most widely and commonly used means of digital marketing. We have published this list of online advertisement websites keeping in mind the huge demand for them among common users as well as professional advertisers.
Get a full list of free classified sites for Delhi state and all of the NCR region (Gurgaon, Noida, Faridabad, Ghaziabad) in India. Use this list of 100 best sites to Post ads in Bangalore and Kolkata . If you want to post your online advertisements for Delhi, NCR locations, this online classifieds listing is perfect for you as you will get names of the sites with their links . This list is specifically made for all those who want to advertise online for Delhi NCR locations.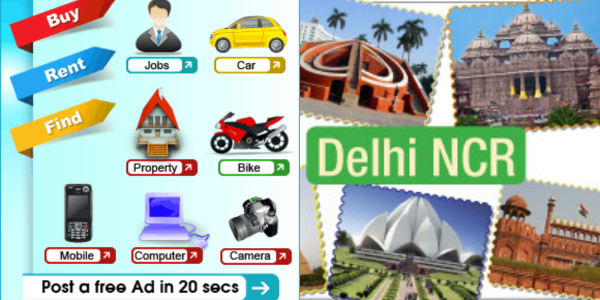 Post free ads for any category, product, or type on these of the best online classifieds for Delhi NCR. Get here another compilation of top 20 classifieds sites to post free ads for Maharashtra and Pune in India.
You can easily post free online business opportunity ads on these websites. This is a fresh, new, and updated list of online ad posting websites for advertisers, consultants, sellers, businesses, service providers, and for anyone who want to make advertisements on the Internet .
All of the classifieds advertising websites mentioned in this list are popular and rated as best ones for Delhi NCR areas of India.
All the advertising sites listed below will allow you to post free ads for these main cities and their sub areas and localities : Delhi, Gurgaon, Ghaziabad, Noida, and Faridabad (NCR)-India. 
Quikr Delhi (http://delhi.quikr.com/)
Ads district Delhi-NCR (http://www.adsdistrict.in/classifieds/delhi-ncr/)
Click.in (http://delhi.click.in/)
Locanto (http://delhi.locanto.in/)
ClickIndia

 

( http://clickindia.com)

Vivastreet (http://www.vivastreet.co.in/delhi-region)
Kugli (http://www.kugli.com/business/def/local-regional-classifieds/regionid/IN07/region/Delhi_India/)
Indialist (http://delhi.indialist.com/)
Meramaal (http://www.meramaal.com/193-Delhi/)
TCnext (http://www.tcnext.com/search/delhi)
Digitalbhoomi (http://newdelhi.digitalbhoomi.in/)
Where in city (http://www.whereincity.com/classifieds/delhi/)
Adoos-Delhi (http://delhi.adoos.in/)
Local Indiya (http://delhi.localindya.com/)
India board (www.indiaboard.com/browse/all/all/Delhi,%20Gurgaon-Noida/all)
Khrido Delhi (http://delhi.khrido.com/)
Raj  B2B (www.rajb2b.com/classified/post_classifieds_Ads.html)
Bechna (http://bechna.com/Delhi_home.htm)
Khojle Delhi ncr (http://delhi.khojle.in/)
Kads (http://kads.in/)
Bharat Patal (http://www.bharatpatal.org/indian-classifieds.php/city/Delhi)
Dragg.in (http://www.dragg.in/classifieds/)
IndiaZa.net (http://www.indiaza.net/index.php)
Bizmart India (http://www.bizmartindia.com/index.php)
Adsnity Best classifieds for Delhi
ClickIndia ( http://clickindia.com)