Top 20 Classifieds in Pune- List of all the advertising sites in Pune for Posting Ads Free Online @Adsolist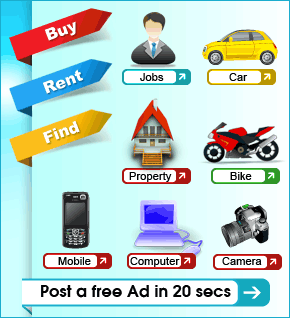 Post free ads online in Pune – 20 Best advertising sites in Pune for promoting your business or products. This List of top Pune classifieds contains the websites that offer great opportunities for free digital marketing!
Posting ads on these Classifieds sites is absolutely free . Skyrocket your marketing and online advertising success by posting classified ads on these ad posting websites in Pune, Maharashtra.
Online Advertising in Pune Made Easy!
Pune city is counted in major places in India for industrial, business and advertising related purposes . Many of the big business houses and companies run their business in Pune and that's the reason there is a lot of demand in Pune for online marketing and advertising.
Keeping this thing in mind, we have published this list of best advertising sites in Pune of Maharashtra ( India ). Though, there could be 100s of classified advertising websites apart from this listings, but we have chosen the best classified sites for getting advertising results faster and quicker.
These advertising sites deliver highest ROTI (Return on Time Investment).
Post free local ads in Pune over top 20 advertising sites
Visit these top advertising sites in Pune, If you want to post local online ads for Real estate, Property, buy sell, online products, company directories, business services, community ads, health and beauty products, pet animals, consumer products, electronics, computer, marketing and sales, etc.
Download all the below listed classifieds in 'clickable' PDF format from here – Post-free-ads-in-Pune-India
http://pune.olx.in/ 

http://pune.quikr.com/
http://pune.locanto.in/
http://pune.craigslist.co.in/ (Local Pune ads on Craigslist India)
http://pune.click.in/ (Post free ads for anything on Clickin )
http://pune.khojle.in/ (Khojle classifieds for Pune city)
http://pune.vivastreet.co.in/
http://classifieds.sulekha.com/pune.htm (Sulekha local advertising Pune)
http://pune.clickindia.com/
http://pune.indialist.com/
http://pune.citiesads.in/
http://www.punerealestate.com/classifieds.htm (Real estate classified site  Pune)
http://ads.puneonline.in/
http://pune.yobaba.com/ (Advertise on Yobaba)
http://pune.postad.in/
http://www.adspune.com/ (Ads Pune)
Kugli Pune Classifieds  (Kugli local ads for Pune)
http://pune.global-free-classified-ads.com/  (Advertise on Global listings Pune)
Looking for more online advertising and marketing options?