Post free online ads in India: |Promote, advertise, or market your business, products, or services online.
Top 10 Free Advertising Websites in India
Highlights:  Top 10 best Indian Classifieds Websites  for online advertising in India. The Most popular ad posting sites for Indian audience  where they can post classified ads on the internet.
Indian ad posting websites for posting any type of online advertisements on the Internet web.
Introduction: Free advertising sites in India– While promoting or marketing something, most of the time, online marketers and business promoters have to post advertising on the Internet. And what could be the best place to post a free ad other than the good classifieds sites or free advertising sites where you can easily promote your newly launched products, campaigns, initiatives, business, or company brand without paying anything directly to any advertising platforms.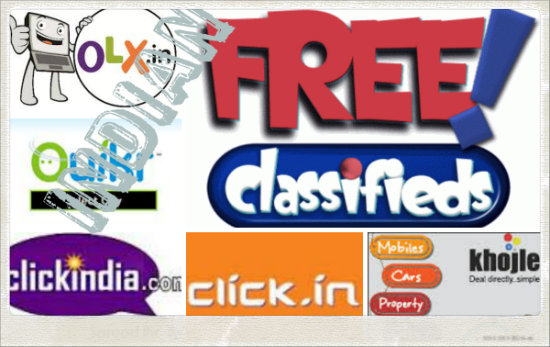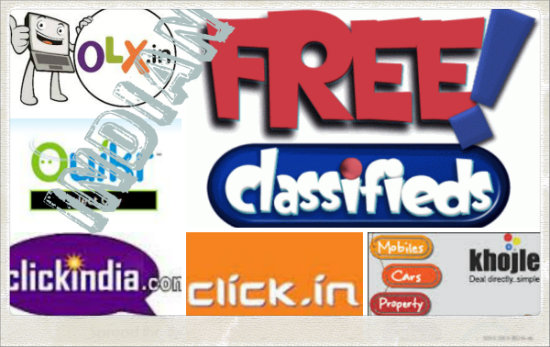 Do you post online advertisements rarely? If so, you can find the below list of classifieds enough for your needs as they are the most visited and highly busy classifieds that can surely fulfill your short time advertising needs. Though, you should post multiple ads on these top classifieds to get the desired results (but, don't forget to use multiple copies of your advertisements rather than submitting a same ads multiple times on a single site. In this way, you can get really good visitors to your online classifieds ads by posting online ads on these top .  advertising sites in India.
Are you a regular online advertiser who happens to post ads on online classifieds websites frequently? There are people who are in a type of small business that requires them to publicize their products or services regularly to generate leads and make sales. If you belong to this type, then keep our blog subscribed and we promise to offer you more free online advertising resources and solutions to your small business advertising needs and demands.  We regularly discover new good advertising websites for Indian cities and local places and update them accordingly in the advertising websites list.
Classifieds Advertising is beneficial for every level of online promotion . Here is real example of how a small publishing company reduced their overall hiring costs by using free classifieds websites to their benefits. The company initially tried to take services of a recruitment placement agency , but their costs proved to be much more than their budget. Then, their HR team invested a nominal amount in a small level local advertising agency and they started posting their recruitment and hiring requirements on at least 20-30 leading online classifieds websites, and as a result the company fulfilled their hiring needs in 90% less costs demanded by the placement consultant ! And, interestingly, the small advertising company beat the big consultants !
In India, there is a huge online market present over Internet based classifieds advertising websites where several thousands of online ads are published everyday and 80% of all the online classifieds are listed on these 'A listed' classifieds sites.  Online ad posting is cheaper and quicker than the traditional types of advertising where newspapers and radio dominated the classifieds market.
About this advertising webs list– This list is prepared keeping in mind those advertisers who want to promote or sell their products only on the few best ones. It is a selected compilation of general advertising web sites for Indian audiences where your ads will get maximum visibility in a minimum time spent on posting ads.
Quality classifieds webs for small businessmen, professionals, sellers, publishers, Internet marketers  and advertising experts
Therefore, if you don't want to spend too much time in posting ads on hundreds or thousands free advertising sites, you should post free ads on these 'A listed' best classified websites.
#1. OLX India-
It has become a super hit classified site which offers online advertising absolutely free. And, results are outstanding ! Post ads for all cities, states and local places in India on OLX :  http://olx.in/   OLX
#2. Quikr-
Since Quikr's starting in 2008 in India, it has been undisputedly a leading classified website for Internet advertising in India. It is a general classified site where you can post ads ranging from selling products to recruiting employees for your company. It was earlier famously known as Kijiji before becoming Quikr classified. Post ads on Quikr : http://quikr.com/  Quikr Classifieds.
#3. Locanto–
It is an international advertising site and shows its presence over many major countries.  Locanto classifieds are for local regions and you can post ads for any major cities in India. Go to Locanto for local advertising in India . Locanto : http://locanto.in/   Locanto India
#4. ClickIndia-
One of the major advertising websites for Indian continent. Clickindia is also a common ad listing place where you can make adverts for almost anything through a suitable category. Visit here to post online advertisements : http://clickindia.com/
#5. Click.in-
Here you can post advertisements on varieties of available ad categories. Click.in is a general classified portal that gets quick leads and sales for any kind of business or services. It is also an all India base local ads site for every major cities and states in the country. Create your advertisements on Click : http://click.in/   Click.In
#6. Craigslist–
If there is a discussion about classified websites then how could anyone forget mentioning the World's No#1 advertising portal ! Do i need to say more?  Advertise your business or service on Indian Craigslist : http://geo.craigslist.org/iso/in   Craigslist for India
#7. Indialist-
A reputed classified made up of listings for numerous products and items for marketing and promotions. Visit Indialist :  http://classifieds.indialist.org/   IndiaList Classifieds
#8. Vivastreet–
An international website offering local advertising services for Indian marketers . You can promote any product, item, occasion, events at Vivastreet. Visit Vivastreet :  http://vivastreet.in/  Vivastreet Ads

#9. Adeex–
an international advertising place that provides localized Internet marketing solutions for any big cities in the region. Create an ad easily on Adeex : http://www.adeex.in/  Adeex Indian Ads
#10. Khojle –
This portal is ventured by Dainik Jagran publication. A great place to post advertisement for anywhere in the country. http://www.khojle.in/classifieds/  Khojle advertisements 
Visit here to post premium ads in India
I believe that this list of advertising websites for India would prove very useful for anyone intending to advertise anything on the Internet web.