50 Best Indian Classified Websites- Post free advertisements on these top 50 ad sites to promote your products, business, services, or company in 2019!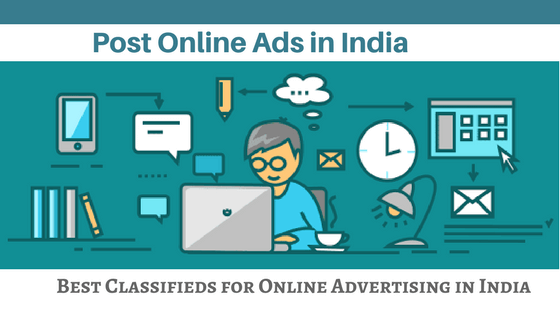 Ultimate ' Ads sites list' for free online advertisement in India for 2018-2019-
Ok, you have decided to promote your company, business, or any online or off-line product in order to increase sales or improve your brand visibility in the market. Then, this ads sites list is perfect for you. Since in today's time the Internet is the best place to advertise your products or business due to the faster promotion rate and cheaper cost compared to other means of advertising. You can post your advertisement for free on huge number of Indian classified sites that are most widely used over the Internet by Indian users.
We have picked 50 online ad posting websites that are the top 50 best advertising sites in India for 2018-2019. They are absolutely free to post ads. You can promote your business over the Internet in no time using this ads sites list. Satisfaction and success is guaranteed, if efforts are well and rightly directed towards achieving the advertising goals.
50 Best of Indian classified websites

 
We have manually checked every classified site to make sure you get only top quality sites included in the free Indian classified websites list.
That's right, we have left no stone unturned to compose this very useful list of advertising sites in India. Example? Who doesn't know about OLX, Quikr, Craigslist, eBay, Times classifieds , Yellow pages ?
In this Classifieds list we have included the most visited Indian advertisement sites. Whether you are looking to sell your products, or add your business listing, or want to promote your own website or blog, want to recruit employees for your company, or you are running a consultancy business – posting free ads on these best classified sites will surely get you for what you want to post advertisements.
We have listed here top 50 online advertising sites in India that get highest search engine traffic and these sites could be found on top 10 Google , yahoo, Bing listings for numerous keywords related to online advertising and these classified websites are the most used and widely searched by the Internet users in India.
List of classified advertising sites in India – 50 best sites for posting ads online.
Some facts about the below listed best advertising sites for India:
All classified sites listed here are live and all the classifieds links are working.

Advertising List posted after checking every advertising website manually.

Classified sites are ranked as per their popularity, age, search engine traffic, Indian Alexa ranking, number of indexed pages in Google, Yahoo, Bing, and as per their Google page ranks.

Most of the classified websites mentioned here are for general advertising, it means they accept all types of ads.
Posting advertisements on these best ad posting sites is free whereas on some ad sites you can post an ad without even registering post an ad straight away!
These are top classified and online advertising items in India, they receive almost 60-70% visitors of all the classified sites.
We have listed only the best advertising sites, though there are several thousands online ad posting websites in India till date.
This ad sites list serves it purpose of offering you the opportunity to post free ads on the best classified websites in India. It would prove a great time saver !
e have taken great care while publishing this advertising list, still there could be chances that a link is broken or not working any more, in that case we request you to please mention the comments field.
And, if you found this advertising list of any help – please do share it on social sharing sites/mail it your friends/bookmark this site (just Press Ctrl+D on your browser. Thank you.
Indian classified websites- List of 
50 Best Advertisement Sites for 2019
Tired of copy pasting the urls of these sites? Just free download the PDF file of all the classified sites with url links : 50-best-Indian-classified-sites-list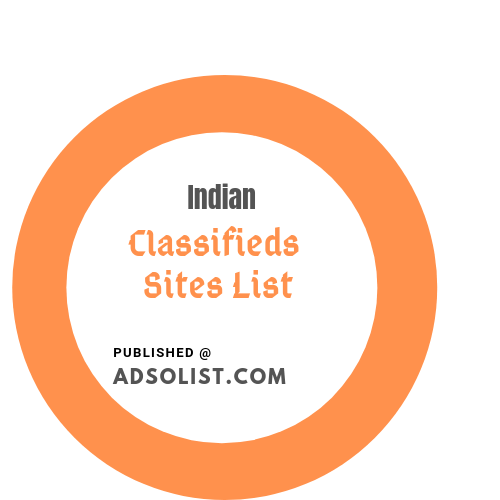 OLX.in 

Quikr.com
http://www.craigslist.org/about/sites/#ASIA (Craigslist India)
Click.in
Locanto.in
http://www.oodle.in/ (Oodle classifieds for India)
http://www.adpost.com/in/  (Ads Post Free)
http://www.indialist.com/ (India List)
http://www.altiusindia.in/ General classifieds India)
http://www.adoos.in/ Post free ads on Adoos)
http://kugli.com/ (Kugli Indian classifieds)
http://adsglobe.com/ (Ads Globe)
http://www.adeex.in/ (Adeex Indian classifieds)
http://www.khojle.in/classifieds/ (Khojle online ads)
http://www.tcnext.com/post-free-classified-ads (Times classifieds)
http://classifieds.sulekha.com/ (Sulekha.com online advertising)
http://www.khrido.com/ (Kharido Online ads)
http://rajb2b.com/classified/ (Raj B2B advertising)
http://classifieds.ivarta.com/ (IVarta ads)
http://www.adsmantra.com/ (Ads Mantra for online advertisements)
http://www.whereincity.com/classifieds/ (Post ads for Every Where in City)
http://www.digitalbhoomi.in/ (Post ads on Digital Bhoomi)
http://www.indnav.com/Classifieds (Indnav Indian classifieds)
http://www.thisismyindia.com/ (Post free ads in India)
http://tuffclassified.com/ (Tuff Classified ads)
http://www.meramaal.com/ (Post local ads in India)
http://www.indiaboard.com/ (Indian advertising board)
http://www.epageindia.com/index.aspx (e page India)
http://www.adsmantra.com/ (Ad posting Mantra)
http://www.beatyourprice.com/ (Buy sell ads)
http://www.indiadynamics.com/ (India Dynamics advt)
http://www.sticknobills.com/ (Stick online bills)
http://www.travelji.com/ (Classifieds for travel related items)
http://www.dragg.in/classifieds/ (Dragg online ad posting)
http://www.indiabook.com/classifieds/ (Book your online advertisement in India)
http://www.muamat.com/ (Post free ads in India on Muamat)
http://www.indyapulse.com/ (Indiya Plus Ads)
http://dialindia.com/ (Dial India for online advertising)
http://www.sleekclassified.com/ (Sleek Indian ads)
http://www.groono.com/classifieds/selectcategory/d4/india (Post free ads on Groono for India)
http://www.classifieds.india.vc/ (Classified India)
http://www.indiagrid.com/index.html  (Indian classifieds grid)
http://indiaeclassified.com/  (e-classifieds for India)
http://ads.indiaonline.in/Create-Ad  (India Online advertising website)
http://bharatpatal.org/indian-classifieds.php (Bharat online ads)
http://bizmartindia.com/ (Biz mart advt)
http://classifieds.apnaindia.com/ (Apna India Classified)
http://classifieds.justlanded.com/en/India (Classifieds India)
http://classifieds.webindia123.com/classifieds/asp/index.asp (Web India)
http://www.classifieds2india.com/ (Classifieds to India)
http://www.freeclassifiedsindia.com/ (Free classified India)
http://www.goodlinksindia.com/ (Good Links India)
Post free ads on 100 best Indian classifieds
Here are separate listings of advertisement sites for Top 50 cities in India as per population.