Top 10 Local business directories for Australian audiences where you can submit a business free online
Are you running a local business in the Australia that needs to promoted and advertised online ? Then you must try these great local business directories to submit the business free online for the local marketing for any of the Australian places.
The business directories mentioned here are great ways to promote a business locally for the targeted locations.  As you may already know, every business is using Internet web to promote themselves quickly in less than 60-80% cost of what traditional ways of advertising might have costed.
Get your business found online when users from various local Australia places are searching for the relevantly similar services on the Internet. Listing your business in these top of the Australia based promotional directories makes a great advertising sense . This is due to the fact that peoples are increasing using the Internet to search a business, products or services nearby to their locality.
So, make it a priority to add your business in all these local Australian directories if you haven't already done so.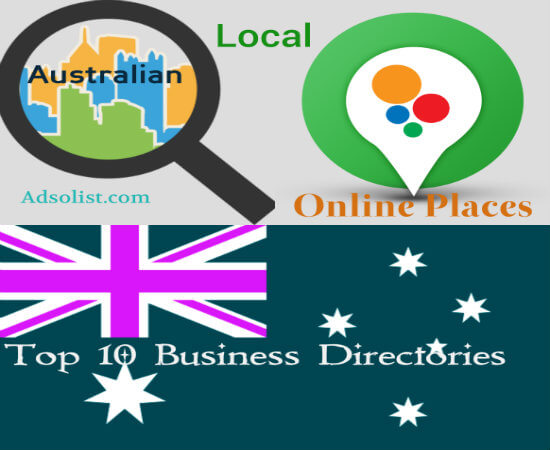 Google Australia:
Google has really revolutionized the way we do businesses, and perhaps that is why it is the first in the list of top 10 local business directories for Australia. For business listing purposes, the Google+ Local Business Page offers businesses the opportunity to themselves known to the whole world.
If you would like your business to go social on Google, you just need to create a Google+ page, complete your profile on this page and verify it and the claim your vanity Universal Resource Locator (URL).
To drive followers to the site, you can add the Google badge or link your YouTube channel to the page. You can also Geo-target your page to Australia.
Submit your Business in Google Australia:
https://www.google.com/intl/en-AU/business/?hl=en-AU&ppsrc=GPDA2
FourSquare:
Foursquare is a Smartphone check-in app that is popular in the cities of East Coast Australia.
There are over a million businesses on FourSquare, and this is just an indication of how many other businesses you join by signing up in this site.
You also get to be connected to a large network of customers, and this is a step in the right direction if you envision success in business.
Add your business map and details at: https://foursquare.com/
Yellow Pages Australia:
The impact of Yellow Pages in business listing and advertising is undeniable. Yellow Pages Australia is the Australian version of the big Yellow Pages network.
You can advertise and market your business for free on this site in a bid to boost Return on your Investment. Other advanced features such as placing Ads are also available but at a fee.
 Promote your business services locally at: /www.yellowpages.com.au
Yelp Australia: 
Yelp Australia is one of the most popular business advertising website in Australia. Its popularity has led to high traffic to the site and businesses can take advantage of this traffic and list their businesses with this site.
With Yelp Australia, you can build your brand and interact with your customers one on one. Your business may already be listed with Yelp Australia, in which case you just need to claim this listing, respond to customer reviews, upload photos and update your site regularly.
 Visit the directory at: https://biz.yelp.com.au/
TrueLocal:
Great user traffic and social media presence are the features that make TrueLocal tick as a business directory. These features are essential in creating an effective brand exposure that will make your business to flourish more than you have ever imagined.
Your customers can review and rate you depending on their satisfaction and you can be sure to grow in leaps and bounds once you member yourself with this site.
Submit your business for local advertising in Australia at: www.truelocal.com.au/
StartLocal: Australian Business Directory
For you to enlist your business on StartLocal, you need to have a physical address. This is a very popular business directory, having over two million visitors every month.
There is a paid listing option for the businesses which would like to have customized listing packages but the free listing option is good to go. The site also runs a blog to further connect with its clients.
Add your business Information free at: www.startlocal.com.au
HotFrog Australia :
This is a free business directory that acts as a small business hub for businesses in Australia.
It offers the opportunity of citing your name, address and telephone on the site as well as having Google map presence and customer reviews.
Your customers have a chance to share the great experience they had at your business on this platform and you can be sure that more customers will be looking for your business.
It only takes about five minutes to get listed on this site and to unlock your business potential.
Post your business details at : www.hotfrog.com.au
BrownBook:
This is an online business directory in Australia for both small and large businesses. Once you list your business on this site, it is visible to many people who are looking for businesses like yours online.
If you are already listed in this site, all you need to do is to claim your site, customize your profile and watch as your business site goes viral. Local advertising for Australia has never been this easier.
 Submit your business free at : http://www.brownbook.net/australia
Yalwa Australia:
Passion in online business listing has its place at Yalwa, where businesses listed are sure to be more visible online and to expand their businesses, not to mention the ability to generate leads to the business site.
The fact that Yalwa is available in about 40 countries of the world adds color to the already good package. Moreover, to submit a business on this site is a walk in the park. There are very easy steps to follow.
Visit the directory:  www.yalwa.com.au
AussieWeb:
Headquartered in Brisbane, this is one of the oldest online local directory websites in the world. It allows you to add a map of the physical location of your site on top of your contacts. Customers can view and rate your listing.
Visit the directory here: www.aussieweb.com.au/