5 best paid advertising and PPC search engines for companies and marketers to advertise your business or website on the Internet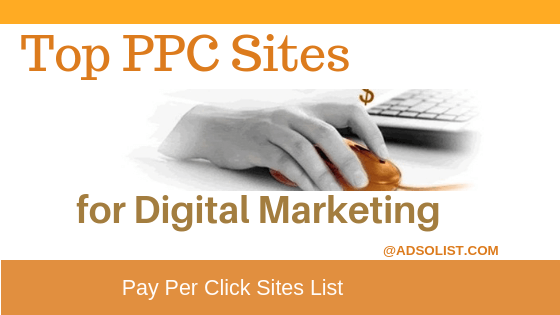 Choosing the right type of PPC advertising website can many times become the determining factor for your website, because if you choose the wrong PPC partner it can lead both you and your hard earning money down the drain.
Many times just paying advertising websites or search engines for clicks is not enough, as most of these newbie websites and search don't even have the right tie ups or optimization to get you the your unique clicks and hits.
Which is why we are going to share the top five PPC advertising websites which will give you the maximum exposure online.
PPC Advertising at its Best: The Top 5 PPC Websites and search engines to advertise online using paid options
Below you will find what are the top 5 highest used & most popular PPC advertising websites that are used by most of the advertisers and companies globally: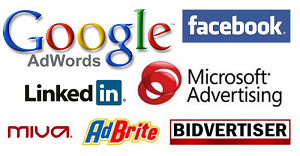 #1. Google AdWords
You guessed it! Google AdWords – being the Number #1 choice of the most for paid advertising– is the undisputed leader in the Pay Per Click advertising market.  Being one of the oldest paid advertising websites online, Google Adwords is perhaps the final frontier of online advertising.
Comprising of the largest advertising directory and with direct link to the Google search engine, AdWords is as good as it gets, when it comes to PPC advertising.
Adwords not only offers advanced ad placement options but also great features and tools for ad campaign optimizations.  You get total control to get in depth analysis of your advertising campaigns and design them as per your budget and traffic needs.
Adwords gives you full power as an advertiser for all things necessary. From making payments to designing and optimizing your ad campaigns, AdWords have all you may need.
Since Google is the number one search engine in the world, most of the users who need any information make a search on Google directly and that's where you can display your ads ( as 'sponsored listings' ).
If you can't get in Google top 10 search engine result pages (SERPs) with your content, or your website is not that much search engine optimized, you still have good chance to make your web pages appear in Google search engine for desired keywords by using Google Adwords and your ads may show in the sponsored listing area.
#2. Bing Ads-
Bing Ads are also known as Microsoft AdCenter, Yahoo advertising, Yahoo Bing Ads, and MSN advertising. They all are the same networks and they have grouped together since the collaboration of Yahoo and Bing. Now Yahoo shows search results only from Bing network and Bing & Yahoo are the same search engines.
Microsoft's new venture with Bing led to the creation of Bing Ads, which much like most other Microsoft product rose to the superstar status in a very short time. Offering one of the largest networks to share your paid advertising on, Bing Ads uses Microsoft's technology and MSN's popularity to gain some serious strength in online advertising. Plus, Bing Ads also have collaborated with Facebook to show their paid listings on Facebook as well.
When Facebook users search something on Facebook it also shows results from Bing apart from their own network.
Visit Bing Ads
#3. Bidvertisers –
One of the most financially strong advertising directories, Bidvertisers put forwards some of the highest paying clients for your advertising space. If you are in need of gaining some traffic or on the lookout for some high paying advertisements, then Bidvertisers is the place for you. Where you bid the highest price to get noticed on some of the best websites online.
Start advertising on Bidvertisers networks of online website publishers – Bidvertisers
#4. AdClickMedia-
Being one of the oldest commercial PPC advertising networks today, AdClickMedia offers their clients with an easy to use website where interested clients or publishers can easily sign up and get instant access to some serious advertisers and client directory available today.
Visit Adclick Media to advertise on more than 40K websites – http://adclickmedia.com/
#5. Advertise.com-
Just the name of this popular PPC advertising website says it all. Offering few of the best PPC advertising for websites and mobile platform, Advertise.com is one of the best places to get traffic through Pay Per Click advertisements.
Advertise.com is a Los Angeles based renowned ad network for companies and publishers. They are present over worldwide locations and have more than 18 years of experience in handling digital advertising.
They have a sufficient team of digital marketing experts that manages all the channels and automated to manual processes that take place in digital advertising.
More options for using Pay Per Click Advertising for your website to generate traffic and sales leads :-
#6 Facebook paid advertising –
Facebook advertising pays very well off through your online social media campaigns. Facebook is already used by millions online and offline businesses to promote their products in social media circles.
#7 LinkedIn-
Checkout paid membership and advertising options on the most popular social media network of professionals.
#8 AdEngage–
They claim to have served over 1.2 Trillion ads since 2004. More than 10K active advertisers on their network. AdEngage is a good place to advertise your business wherever you want!
#9 Directcpv–
Start advertising your business by a bidding system where you can start from as low as just $0.004 USD .
#10 Admanage–
Admanage is another good paid advertising network for advertisers and online publishers. Admanage offers the following ways to advertise your business website or business online :-
CPC Banners
Display Banners
In Text Ads
XML Search Feeds
CPV Interstitials
Visit AdManage for paid advertising  – http://www.admanage.com