Comparision between Alibaba, IndiaMart, and TradeIndia: Reviews of India's 3 Top Most B2B Portals
Top B2b trade portals in India to Grow your Business Online.
Create new business opportunities online by Adding your business into these Top 3 B2B Trade Portals in India.
Reviews of 3 Greatest B2B Portals – Alibaba, India Mart & TradeIndia – for Indian business owners, Sellers, and buyers.

 
I was thinking to publish this review of the 3 best Trade portals from India after publishing this listing post about online B2B portals : Top 10 Trade sites in India for business men . e-commerce sites are in great demand and play a major role today when we talk about Online advertising and marketing for businesses.
And the e-commerce portals have become more so popular in recent years since the stories of high growth rate in e-commerce industry started being written every other days in the Newspapers headlines, Magazines, and off-course over the Internet web.
Any serious online sellers would find these e-commerce sites worth investing their money and time.  If you are small business owner, we strongly recommend you to publish your business online by adding into these best Indian business directory sites.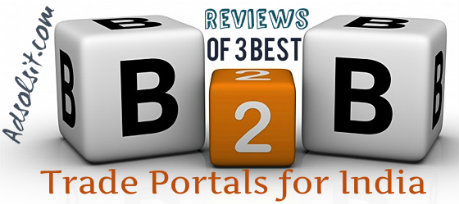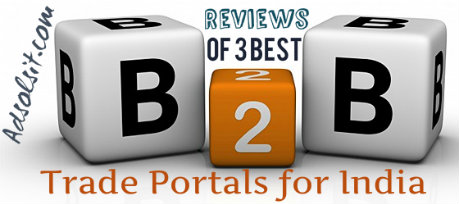 What are the main roles that B2B Websites Play for Traders, Manufacturers, Suppliers, and Exporters?
In this era of globalization, proliferation of e-commerce activities has hit the ground running in the recent times. Indeed, we are now in the age of e-commerce. Operations of e-commerce are more or less similar to those of the conventional business operations, except the fact that with e-commerce, travelling is not much of an issue, as one you can do shopping at the comfort of your house.
This is made easy by trade portals like Alibaba, IndiaMart and TradeIndia. Indeed, these trade portals are very important to manufacturers, Business to Business platforms, suppliers, exporters and generally all the stakeholders in the e-commerce platform. For instance, they bridge the gap between manufacturers and final consumers.
They also provide an online marketplace that matches sellers/suppliers' needs with the consumer needs.
Additionally, they provide online sales services, electronic payment services, shopping carts and search engines as well as data-centric cloud computing services for manufacturers, suppliers and other e-commerce participants.
Indeed, these portals strive to be the e-commerce destinations where consumers can find and discover anything they want to buy online. By so doing, they serve as lead generation agents for the websites of manufacturers, suppliers, B2B and exporters since buying an item from the portals entails being re-directed to the website of the manufacturer, exporter or supplier of that particular item.
Let us take a sneak peak of the operations of each of these Indian B2b Portals:-
Alibaba, IndiaMart & TradeIndia: Best Business Portals for Buyers & Sellers to Get leads & sales Online:
Trade websites are great online places for promoting your business as they play a key role in local web markets. The benefits of listing your products over these webs is that you don't have to worry about marketing your products and most of the online support to your customers is offered by the sites themselves.
While other such advertising and selling platforms, like business classifieds and local business directories, are not at all able to offer that much help and support services to your customers.
#1 Alibaba- The No#1 Indian B2B Portal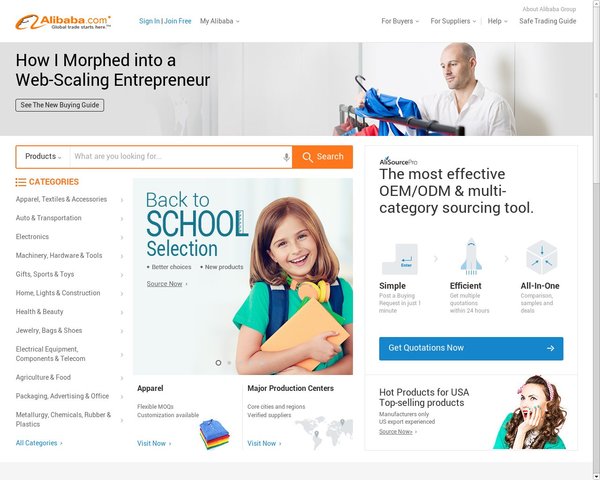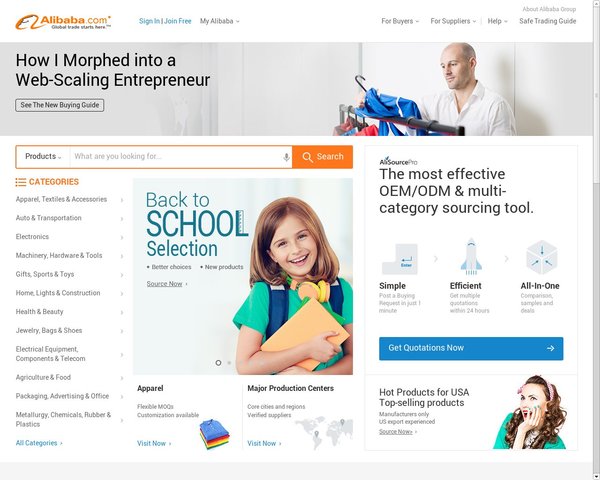 Alibaba Group Holding Limited is an e-commerce company headquartered in Hangzhou, China. It provides online shopping services all over the world, especially for e-commerce, hosting, online auction, online money transfers and mobile commerce products.
Ever since its inception on 4th April 1999, Alibaba has provided high-end consumer-to-consumer, business-to-consumer as well as business-to-business sales services through web portals. As if that is not enough, it also offers electronic payment services, data-centric cloud computing services and a shopping search engine. Ali Baba was called the worlds greatest market even by the Economist.
Originally, Alibaba was formed to act as a link between Chinese manufacturers and overseas customers. However, with everyone embracing the online shopping trend, Alibaba has grown in leaps and bounds in the recent past. This has culminated to its Initial Public Offering recently on September 19, 2014. Moreover, its continued growth has led to the development of a myriad affiliate entities and companies.
Alibaba.com is one of such affiliates, and it is the largest online B2B trading platform in the world, especially for small businesses. The other affiliates include Toabao (customer-to-customer shopping platform), Tmall.com, Juhuasuan, eTao, Alipay, Alibaba Cloud Computing, AliExpress, China Yahoo!, Aliwang, ChinaVision Media Group, Youku Tudou, 11 Main and Alibaba Group R&D institute.
The websites of all these affiliates are well developed and interactive. They are also available in various languages to ensure that no one is locked out. At Alibaba, all categories of goods and services are offered. For this reason, if you are shopping for apparel, textiles and accessories, Alibaba is the place to be.
Additionally, for all auto and transportation services, electronics, machinery, hardware and tools as well as gifts, sports and toys, passion has its place at Alibaba. You can also get access to a wide range of home, health, beauty, jewelry, bags, shoes, electrical equipment and components as well as agricultural products and services at the click of a mouse.
It is worth noting that the prices for all the products and services listed with Alibaba are customer friendly. Remember, in e-commerce, your prices have to be better because the consumer has to take a leap of faith in your product. (Ashton Kutcher).
Indeed, if you would like to go shopping without breaking your wallet, then Alibaba is the way to go. Buyers or sellers Register Free at Alibaba
Cons– Though, like any other e-commerce website there are customers with complaints about their late or wrong delivery. They need to improve their delivery system and make it unmatchable like their other features.
#2 IndiaMart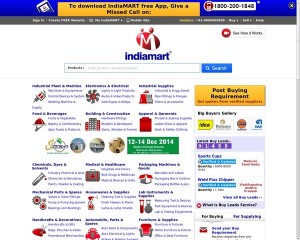 Review of IndiaMart:  This is a private internet marketing company that is based in Noida, India. It mainly specializes in Business-to-business e-commerce operations where the needs of the suppliers are matched with those of the buyers. 
The number of suppliers registered with IndiaMart is overwhelming. Perhaps that is why it is recognized world all over as one of the leading B2B market places in the world. This also contributed to the awards won by IndiaMart, which include Red Herring 100 Asia 2008, Emerging India Award 2008 (second runner-up) and Manthan Award 2013 for Buy Leads Under E-Business & Financial Inclusion Category.
In a bid to enhance effectiveness, IndiaMart recently launched Tolexo.com in order to serve as an e-commerce platform for Small and Medium Sized Enterprises (SMEs) to showcase and sell their products. Elaborate customer care is the backbone of e-commerce, and IndiaMart understands that very well. This is because unlike the conventional brick and mortar stores, the participants in an e-commerce transaction rely on phone calls, chats or emails to process the transaction.
That is why the IndiaMart helpline +91-9696969696 is always open to solve all customer and supplier problems whenever they arise.   Suppliers can showcase and post their products free of charge, create free website and buy leads to these websites.
On the other hand, buyers can send buy requirements, manage sell offer alerts and search for available products and services. In the same vein, IndiaMart showcases trade shows, conferences and other business events in various parts of the world. This is primarily a trade portal for Indian customers (buyers) and suppliers/sellers/wholesalers/manufacturers.
List your business at IndiaMart  
Cons- Their paid services are complained for being too costly in terms of the return. The information database is also not reliable perfectly as the old listings are not being reviewed and updated regularly to make the appropriate changes.
#3 TradeIndia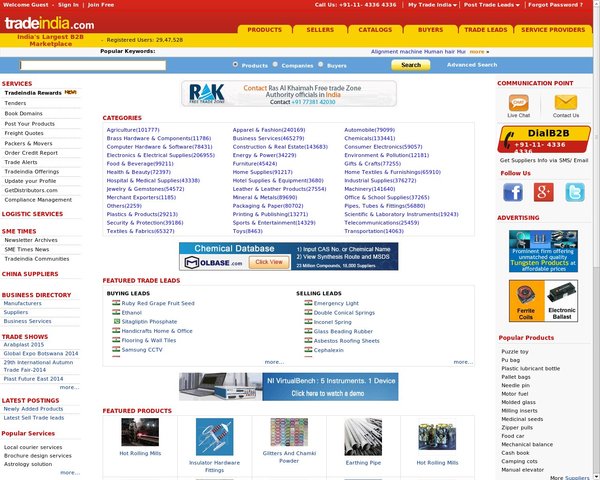 Review of TradeIndia: TradeIndia is online B2B portal formed by Bikky Khosla in 1996. It is based in New Delhi, India. Through Infocom Network Ltd, TradeIndia has spread throughout the globe like wild bush fire.
This is a popular site for trade shows and exhibitions among small businesses located in India and the other parts of the world. TradeIndia deals in more than 1200 product categories, the main ones being online business catalogs, trade Alerts, DialB2B, Credit reports, Call Me Free Service and trade leads.
No local or global trade show goes unnoticed by TradeIndia, as one of its core principles is to keep suppliers and buyers updated with the latest information on the marketplace. Events such as Emerging India Awards, Workshop on effective use of internet for the growth of business, 2nd Food & Agri Exporters Conclave and SME Conclave have also proved crucial in the worldwide recognition and growth of this trade portal.
It offers
The recent signing of a Memorandum of Understanding with DITP (Department of International Trade Promotion) of the Ministry of Commerce of Thailand is an extra feather to the cap. Join TradeIndia free
Cons- TradeIndia has grown as a very big e-commerce website in India and you may expect some issues regarding their product delivery and quality services. Company is very aggressive towards expanding their business due to which they face challenges in delivering the quality products to the end users.
Conclusion:
All in all, every website or business how so bigger or great faces some challenges and difficulties in overcoming some faults and drawbacks. The same is true with these e-commerce B2B trade companies and we have noticed various kinds of complains about their services. 
But, If compared to the other online market places in India these are the best ones and you should go for them if you haven't already joined them as a seller or buyer since they offer great business opportunities to anyone serious enough to expand their business and services online.
In a nutshell, e-commerce cannot thrive in the absence of online trade portals. Online shopping is overtaking conventional shopping at an alarming rate, and this has been made possible by the operations of trade portals. With technology advancing by the minutes, we expect more refinements in the service delivery of online trade portals in the near future.